FAQs
---
Online Banking Sign Up Questions

Q: How do I sign up for an Online Banking Account?

A: To sign up for Online Banking, simply click Personal if you're personal user or Cash Management for your business located on the left side of the FNB & Trust home page at
www.fnbandt.com
.
Access to Online Banking is immediate for personal users provided all enrollment requirements are met. For business users, you will notified as soon as the enrollment process is complete and online banking system is available for you to use.
Q: Are there systems requirements?
A: Yes. We support the current and prior major releases of Internet Explorer, Firefox, Safari and Chrome. When a new version is announced as Release to WEB (RTW), support will cease on the third-oldest major version.

Supported Browsers - Current and Prior Major Releases
Microsoft Internet Explorer - IE
Firefox
Safari - Apple/Mac Users only
Google Chrome
The supported browsers above are for use with the traditional online banking interface and devices (desktop/laptop), and do not apply to use with mobile devices (phones/tablets). If using a phone or tablet to access online banking outside of an app, functionality and appearance may vary from the traditional interface.
Additionally, we recommend 1024 X 768 screen resolution for better results.
Q: If I sign up for Online Banking, will I still have access to my account via telephone if I'm not at my computer?
A: Yes. You can still access First Access 24X7 Telephone Banking anytime of the day or night.
Q: How much do Online Banking and Bill Pay cost?
A: Online Banking is FREE to all First National Bank & Trust customers! You'll be able to access your accounts 24 hours a day, 7 days a week. You will also be able to check your current account balances, transaction details, and transfer funds between accounts to name a few.
There is a small monthly fee of $5 per month for Bill Pay. However, if you are a First National Bank & Trust Total Access customer or pay 3 bills or more per monthly cycle using First National Bank & Trusts Bill Pay service, Bill Pay is FREE! Bill Pay will allow you to pay your bills within minutes and have a confirmation of payments made. You can also schedule regular payments ahead of time or on a recurring basis. You'll never go back to licking stamps and filling out envelopes!
Q: Once I apply for Online Banking, which of my accounts will I be able to view online?
A: In addition to having access to your checking account, you can also view your savings, personal loans, mortgage loans…all online. These accounts will be listed on the "Accounts Overview" page once you login to Online Banking. Your accounts will be separated by category: deposit accounts and loan accounts.
Q: What if I have a question about my account?
A: There are three easy ways to contact the First National Bank & Trust concerning questions about your account. You may Click, Call, or Visit.
1. Click (via e-mail)
Simply access the "new messages" link on the "Accounts Overview" page to send a secure message. You may also, email us at
electronicbanking@fnbandt.com
and we will respond, via secured messaging, within 24 hours during normal business hours. To ask a question about a specific transaction, click the mail icon located to the far right of the transaction. The "compose message" page will appear pre-filled with that particular transaction's information.
2. Call
If you would like to speak with a First National Bank & Trust representative, you can call the bank at 251-368-3148 or toll free 1-877-575-2440 during regular banking hours and someone will be glad to personally answer your question.
3. Visit
Another way to contact a First National Bank & Trust representative would be to visit the bank branch location nearest to you during regular banking hours and someone will be glad assist you.
---
Security

Q: How safe is my account information with Online Banking?
A: Online Banking uses the latest and most innovative security technology available today. Technology such as Windows NT® and SQL (a powerful, relational database language), cryptography, firewalls, digital certification and authentication, are all utilized to make sure that all of your online transactions are secure and authentic.
Q: Where can I find more information about security?
A: Read the bank's security policy for more detailed information. This document will provide you with all the information you need about how the bank keeps your account information safe.
Q: How can I be sure I am following the proper Online security measures on my own?
A: All transactions are encrypted for security, and the Online Banking system is as secure as using an ATM. There are, however, a few steps you can take to ensure your account information is secure.
Never leave your Online Banking system user name and password where another person can find them.
Always use the Exit option on the Main Menu to leave the Online Banking system when you're done.
If you just close your browser, or move to another web page, you could be leaving your connection to the system open. This could allow another person to access your accounts if you step away from your machine.

---
Online Account Access
Q: How do I access my account for the first time?
A: Enter your username and password. It's a good idea to change your password regularly.
Select a password that has some meaning to you, but that would be difficult for others to guess.
Please do not use your Social Security Number, phone number, address, birth date/family member's birth date, or anniversary.
Use at least eight characters with one number, one uppercase letter, one lowercase letter and one special character (&, +, , %, @, !, $, *, ~).
Q: How do I get my account information?
A: You may view your account information as a summary of all your accounts on the Accounts Overview page or you may also view more detailed account information for a specific account.
The Accounts Overview page lists all your accounts, with high-level information about each account. The nature of the displayed information depends on the type of account. Click on an account to get more detailed information about that account.
Q: How do I use my checking account with Online Banking?
A: The same way you always have. In addition to the convenience of online banking, you can still write checks and use the ATM as you always have. Only now with Online Banking, balancing your checkbook is much easier! You can view your current balance anytime of the day or night and view account detail to see which checks and deposits have cleared.
Q: How do I use the Account Detail Page?
A: You can access the Account Detail page by clicking on an account link on the Accounts Overview page. This page provides information for the selected account. Transaction history is displayed for Checking, Savings, and Money Market accounts.
The top section of the Account Detail Page displays general account information, such as balances, number of debits or credits, and totals of debits and credits for this particular account.
The middle section of the Account Detail Page is the Transaction Display table. The first view of the Account Detail Page displays data for the last load (typically previous day information) of transaction information provided by the bank. For each transaction, you can see the effective date of the transaction, the transaction description, the number of the transaction (such as check serial number), and the amount of the transaction. The information is sorted by date, with most recent transactions first.
The envelope icon located to the right of each transaction allows you to send us a question about a specific transaction. By clicking the icon, the message will populate with pertinent information about that particular transaction.
Q: What do the underlined words on the Account Detail screen mean?
A: Clicking an underlined word or phrase, which is hyperlinked to other information, takes you to more information about the word or phrase. Additionally, by clicking a hyperlinked check or deposit allows you to view images of that check or deposit.
Q: How can I view my statements and notices online?
A: Sign up for e-Statements and e-Notices by clicking the "View Statements" link located in the Accounts drop down menu located on the top navigation bar and follow the simple instructions. Each month, you will receive an automated email notification message that your statements and notices are ready to view.
Q: Now that I'm banking online, how do I deposit money into my account?
A: The same way you've always made deposits. An easy way to expedite salary deposits is to work with your employer to set up direct deposit of your paycheck into your checking account. This makes it very easy to receive your regular payroll check. The money is automatically credited to your account on your usual payment days. You can also visit the bank branch nearest you to make the deposit in person. Or, you can mail the deposit to the bank in a deposit envelope.
---
Paying Loans
Q: Can I pay a loan through Online Banking?
A: Yes, on the Transfers or Payment screen, you can make a loan payment or a loan principal payment by transferring funds from your Demand Deposit, Savings or Money Market account to your loan account. You can make a one-time payment, a future-dated payment, or a scheduled, recurring payment.
---
Transferring Funds
Q: What does the transfer funds feature allow me to do?
A: The Transfer Funds feature allows you to move or transfer funds between your First National Bank & Trust accounts. The screen asks you for the account that funds will come from, the account that will receive the funds, and the amount of the transfer. You can create a single funds transfer, a scheduled funds transfer, or a recurring, scheduled funds transfer. Transfers can be scheduled up to a year in advance.
Q: When will my transfer post to the receiving account?
A: All transfers should post to the receiving account the same day if the transfer is scheduled prior to 6:00pm CST.
---
Bill Pay Frequently Asked Questions
Q: Can I make a payment to anyone?
A: Yes, you can pay anyone including your cable company, doctor, or Uncle Charlie.
Q: Can I pay bills with my credit card?
A: Currently, we don't issue payments from a credit card.
Q: Can I cancel or change a payment?
A: Yes, just click the Cancel or Edit link in the Pending Payments section on the Make Payments page. Just be sure to cancel or change your scheduled payment before 3:00pm CST on the 'Send On' date.
Q: Who has access to my bill pay and funding account?
A: You are the only person who can authorize payments to be issued against your account. Our representatives only access your account information on a need-to-know basis, and only with your approval.
Q: Can I pay a person or business if I don't have an account number?
A: Yes, you don't need an account number to make a payment.
Q: What security features do you use?
A: Our service is highly secure, designed to fully safeguard the privacy and security of your financial information. Unlike normal Internet communication, all information sent to and from our processing center is encrypted and sent through a secure communications channel. Messages cannot be redirected, read, or tampered with. We also take advantage of the maximum level of security supported by your browser, including 128-bit RC4 encryption.
Q: Who authorizes payments?
A: Only you can authorize payments. You have complete control over whom you are issuing a payment to, the exact payment amount, when the payment should be sent or whether to pay the bill at all. If you have a flat fee or recurring bill that you would like to have paid each month, you can instruct us to make that payment automatically for you.
Q: Are there daily limits or limits to how much I can pay to one payee/merchant?
A: There is a $9,999.99 per transaction limit and a $20,000.00 daily limit. However, if the funds aren't available, regardless of the amount, the scheduled bill payment will not process.
---
How To Use First Access 24/7 Telephone Banking

First National Bank & Trust First Access 24/7 Telephone Banking is so easy to use! Just dial 368-6666 or toll free 1-866-922-3771.
First time users will be prompted to enter account number, followed by the last 4 digits of the primary account holder's social security number. Once verified, you will be prompted to establish a new 4 digit PIN number.
Once in the system, you will be prompted to choose from one of the following:

For account information, press 1
For merchant verification, press 4
Select option 1 for account information and you will receive the following options:
For checking information, press 1
For savings information, press 2
For CD information, press 3
For loan information, press 4
To change your secret PIN number, press 5
To request a loan payment, press 7
To repeat these options, press 8
To return to the previous set of options, press 9
Select option 1 for checking information and you will receive the following options:
Enter your account number followed by the # key
Enter your PIN number followed by the # key
After balance information is provided, you will receive the following options:
To repeat your balance,
press 1
To listen to all your direct deposits,
press 2
To verify a specific withdrawal,
press 3
To listen to your transactions,
press 4
For checks presented against insufficient funds,
press 5
For additional information on your account,
press 6
To repeat these options,
press 8
To select a new account or return to the previous set of options,
press 9
---
How To Balance Your Checkbook
In order to balance your checkbook, you will need to always keep a record of the checks you write on your account, as well as your debit card transactions. Most people do this by writing them in a check register, which you should receive with any normal check order. Additional registers are available from us free of charge.
Each month,First National Bank & Trust will send you a 'bank statement' (either electronically via e-Statements or via US Mail) of your account. The statement is our record of all activity that occurred with your checking account, including checks written, deposits, ATM withdrawals, debit card purchases, bill pay and fee, etc. Along with this statement you will receive images of the checks and deposits that have processed through your account. If you have a Totally Free checking account, check images aren't provided. Using the statement and your checkbook, use the following steps to balance your checkbook.
Steps For Balancing
Step 1

In your check register, make a checkmark beside each check listed on your bank statement. In addition, also mark all ATM or other debit card transactions, and all deposits.
Step 2
Record in your check register any transactions listed on your bank statement that were not already recorded in your register. This may include ATM or debit transactions that you forgot to write down, automatic payments, internet bill pay activity, fees, etc.
Step 3
The back of your bank statement will have a form. Use this form to reconcile your checking account.
---
Switching Your Account To First National Bank & Trust

You've got plenty of reasons to switch banks. Whether you've changed jobs, moved, or your bank didn't appreciate your business. Switching banks can be a big hassle. We'd like to make switching to First National Bank & Trust, where we value you and are accessible and responsive to your banking needs, as easy as 1, 2, 3!
Our Checking Account Switch Kit includes everything you need to make moving your checking account to FNB&Trust easy and convenient!
5 Step Process
Automatic Withdrawal and Direct Deposit Change Forms
"Please Close My Account" Form
As we said, as easy as 1, 2, 3!
Making the Switch in Five Simple Steps
Step 1
Open your First National Bank & Trust account
Stop by any one of our convenient locations in Atmore or Excel to open your account or
apply online
. Make a note of your account number and First National Bank & Trust's routing number of 062104520. The routing number will always appear at the bottom of each check on the left hand side.
Step 2
Stop using your old account
And let all your checks clear. This could take up to 10 days or more. In the meantime, destroy any unused checks, ATM and debit cards and deposit slips.
Step 3
Change direct deposits
Fill out the
enclosed PDF form
and give it to your employer, the Social Security Administration or your retirement plan. Include a new deposit slip or voided check.
Step 4
Change automatic payments
Use the
enclosed PDF form
to change all automatic withdrawals or automated payment services. Don't forget about those that use your old debit card number, such as automatic payments made online.
Step 5
Close your old account
Once all checks have cleared, send in the
enclosed PDF form
to close your old account. If, after all your checks have cleared, you have a remaining balance, your old bank will send you a check. It's as simple as that.
Still have questions? Give us a chance to show you how helpful we are.
Stop by one of our convenient locations in Atmore or Excel
Call us at 251-368-3148 or 251-765-9020, respectively or toll free at 1-877-575-2440 
---
How to Report a Lost/Stolen Debit Card
If your debit card has been lost or stolen, please report it as soon as possible! There are several ways to alert the bank.
Call toll free at 1-866-546-8273 to report your own card lost or stolen.
Call the bank at 251-368-3148 or toll free at 1-877-575-2440 during banking hours.
For your protection, your debit card can be marked inactive for suspicious fraud activity due to a change in your spending habits or locations (out of state, etc). If you know in advance of such changes such as traveling out of the country or state, please contact us immediately.
---
Internet Safety/Online Security

"Phishing" is a rapidly growing scam that is performed through email. If you haven't heard of it yet, it's not complicated and very easy to avoid – you just need to know the facts.
According to the Federal Trade Commission (FTC), "phishers" send an email or pop-up message that claims to be from a business or organization that you deal with – for example, your Internet service provider (ISP), bank, credit card company, or even a government agency.
The message usually says that you need to "update" or "validate" your account information. It might threaten some dire consequence if you don't respond. The message directs you to a Web site that looks just like a legitimate organization's site, but it isn't.
The purpose of the bogus site? To trick you into divulging your personal information so the operators can steal your identify and run up bills or commit crimes in your name.
There are some simple ways to outwit these identity thieves:
Never directly respond to e-mail or text asking for personal information. If you are a customer of First National Bank & Trust, we would never ask you to verify your personal information via email or text.
If you doubt a message's authenticity, verify it by contacting the institution itself.
Don't email personal or financial information. Email is not a secure method of transmitting personal information. If you initiate a transaction and want to provide your personal or financial information through an organization's web site, look for indicators that the site is secure, like a lock icon (insert lock) on the browser's status bar or a URL for a website that begins "https" (the "s" stands for "secure"). Unfortunately, no indicator is foolproof; some "phishers" have forged security icons.
When prompted for a password, give an incorrect one first. A "phishing" site will accept it, a legitimate one won't.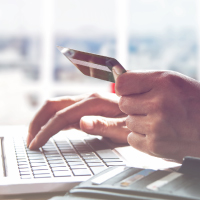 Instant Issue
Debit Cards
More convenient than ever. Stop by a branch location to receive your debit card on the spot.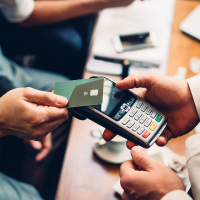 Credit Cards
Make Life Simple! Apply today with one of our customer service representatives.