Telephone Banking
Call  1-866-922-3771
First National Bank & Trust's First Access 24/7 Telephone Banking gives you quick and easy access to all of your accounts at any time of the day or night. Best of all, First Access 24/7 is FREE to all our customers! Rest assured that your financial information is always secure because access is by your personalized Customers I.D. and PIN. This convenient service allows you to:
Make account balance inquiries
Inquire about a check/debit that has been paid on your account
Transfer funds between accounts
Receive loan account information
Plus many more features

The first time you call First Access 24/7 you will need to have your account number(s) and your social security number handy. Also be prepared to designate a four-digit personal identification number (PIN) for each account. You can use the same PIN number for all your accounts, or individual PIN numbers for each account, if account access is a concern. However, transfer accounts must have the same PIN number on both accounts. Make a note of your PIN. You will need it to make future inquiries.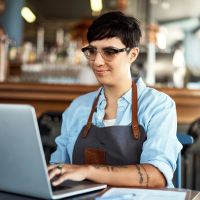 Commercial RDC
Save a trip to the bank and deposit your commercial checks electronically.