Mobile Deposit Capture
Mobile check deposit lets you deposit checks into your account from anywhere, anytime!
It's easy and secure. Just use your smartphone's camera to take a photo of your check, then submit it.  On your time. At your convenience.
Get Started
After you're enrolled in FNB&T Online Banking, here's how to deposit checks in just a few quick clicks:
1.  Download and launch our mobile banking app for your iPhone®, Android™ or Windows smartphone.
2.  Use you FNB&T Online Banking Username and Password to securely login.
3.  Choose "deposit" from the menu.
4.  Register with your name and email address.  Your information will be submitted to our deposit
     operation department for approval.  Once approved, you will receive an email from FNB&T.
5.  Accept the terms and conditions.
6.  Select the account in which you wish to deposit the funds, and enter the amount of the check.
7.  Sign the back of the check and print "For Mobile Deposit Only at FNB&T".
8.  Take a picture of the front and back of your signed check, following the on screen instructions.
9.  Verify that everything on the screen is correct, then hit "Submit."
And you're done!  We'll confirm that the check has been received via email.  Retain the deposited check for 60 days, then shred it.
*Not all accounts are eligible for participation in Mobile Check Deposit(Remote Deposit Capture - RDC).  RDC funds are not subject to the Federal Funds Availability Policy requirements.  Free Online Banking with FNB&T enrollment required for FNB&T Mobile Banking App sign on.  Refer to the Mobile Remote Check Deposit Capture Agreement.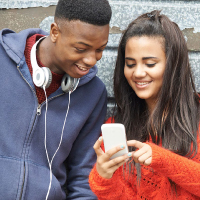 Mobile App
Free and packed with convenient features, our app is a must-have to manage your finances on-the-go.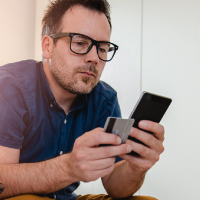 SMS Guardian
Protect yourself with our free anti-fraud text alert service for your credit and debit card transactions.
Messages and Data Rates may apply.