The Professional
You're Off and Running
Maximizing your paycheck as your income increases is key. You may finally have discretionary income for travel and hobbies, and the challenge is to find the right balance between spending and saving. The financial decisions you make now will have the greatest impact on the lifestyle you enjoy during retirement and you may need more than you think.
Stay on track with your long-term financial goals.
1. Understand Your Credit Report – Your financial behavior over the past seven years, including how much credit you have, how long you've had it, and whether you pay your bills on time, is information included in your credit report. Three credit reporting agencies — Equifax, TransUnion and Experian – maintain these reports, and lenders buy them to help them decide whether to offer you a pre-qualification.
Your credit report also carries your credit score ranked between 300 and 850 that many lenders use to decide whether you are creditworthy and will repay a loan. Your credit score can also influence the interest rate you pay. In many cases the higher your score, the lower your interest rate.
2. Check Out First National Bank & Trust's Rates – Once you understand your credit score, check out our loan rates.
With competitive rates, experienced lending professionals and local decision-making, you'll be sure to find a loan at First National Bank & Trust that meets your needs. Stop by and talk with one of our lending officers.
Home purchase
Home re-finance
Construction Loans
Installment Loans
Home Improvement Loans
Second Mortgage Loans
Home Equity Loans
Home Equity Line of Credit

3. Conserve time, money and paper with First National Bank & Trust's convenient checking accounts with online banking and bill pay and Debit Card Rewards – pay bills, check balances, and access your money faster with these convenient services.
4. Improve Funds Availability and Save Time and Money – Take advantage of Direct Deposit and enjoy the benefits of never having to deposit a paycheck again! Our scheduled deposit service will work with your employer to automatically deposit your checks into the accounts you specify, on time, every time!
5. Start Saving for Retirement
– Many people underestimate the amount of money they'll need in retirement. When planning, be realistic about major expenditures, e.g., will your mortgage be paid off? Do you plan to buy a vacation home or travel extensively? Will you have to pay for your own health insurance? These and other financial considerations all come into play. Go to our
retirement calculator
and get started!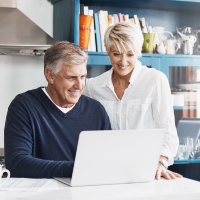 Personal
e-Statements
Receive your monthly statements sooner and more securely.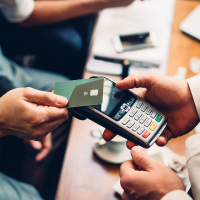 Credit Cards
Make Life Simple! Apply today with one of our customer service representatives.